Featured Item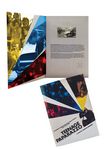 Video In Print Media Player For Custom P...
The perfect fusion of video, print, and sound. Incorporate high quality video content into any print collateral. Multiple screen sizes available. Up to 15 minutes of video content. Rechargeable batter...

Welcome!
Your trusted local source for branding ideas in the Bay Area.
We have been working closely with our clients for
over 25 years. We know how important it is to have your
order on time and within your budget.
We have a full showroom near downtown Redwood City.
Let us help you find the best ideas for your upcoming events.

For Hooked on Niners Gear see Specials on your top left
Rush Service
In a hurry ? - Here are over 1,000 products
that can be delivered in just a few days. Some of these can include a FULL COLOR IMPRINT.